Readers' Guide: Couldn't Keep It To Myself by Wally Lamb
"Couldn't Keep It To Myself
by: Wally Lamb

Category: FICTION
Guide Created By: Ginny Anderson
Discussion Leader: Ginny Anderson
Read our archived discussion of this book
---
Guide Description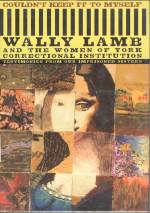 A stunning collection of essays from women in prison challenges our understandings and compassion.
---
---
Plot Synopsis
Synopsis
In a moving collection of essays which evolved from his volunteer work in a writing workshop at York Correctional Institution, author Wally Lamb presents "miracles in print," the actual voices of ten incarcerated women, which present stunning situations, perspectives, and stories of hope amid devestating circumstances, all of which challenge the reader to open his mind and heart to a new world.

As Wally Lamb remarks in his Introduction, "There are misconceptions to be abandoned, biases to be dropped...Each contributor whose work you will read has discovered the interwtined power of the written word, and the power that resides within her. The good news is that she couldn't keep it to herself."

The reader will be hard pressed to keep the line between "me and thee" intact, as he reads these stunning and moving testimonies. As one of the women, Bonnie Foreshaw, stated, "What I hope is that people reading this book will bear in mind that we are human beings first, inmates second." The reader will come away from the book with a new appreciation of what can go wrong in life, and what it takes to overcome adversity.

In an exclusive interview., included in this Reader's Guide, Wally Lamb remarks on such wide ranging and diverse issues as writing and editing, the Son of Sam Statutes, pending legislation in Connecticut, what he hopes the book will accomplish, what the title means, his role as editor and anthologist, his work on his new book and his screenplay, charming personal vignettes, the "ingredients of a dramatic scene," exposition techniques, the present lawsuit against the women contributors, and suggestions for prison reform: an incredible experience for the reader. Additional fascinating interviews are also included, with Dale Griffith, (Instructor at York Correctional Institution), and authors, Nancy Birkla and Nancy Whiteley.
---
Biography of the Author
Biography
"Wally Lamb is a nationally honored teacher, critically acclaimed writer and bestselling author. His work includes the #1 New York Times bestseller, SHE'S COME UNDONE (Pocket Books; 1992) which also hit USA Today, Los Angeles Times, Publishers Weekly and other national bestseller lists; published fiction and non-fiction in The Missouri Review, Allure, USA Weekend, Northeast, The New York Times Magazine, and editor of the poetry collection, Always Begin Where You Are (McGraw Hill; 1979). His second book, I KNOW THIS MUCH IS TRUE (ReganBooks), was released in June 1998.

SHE'S COME UNDONE was chosen as a finalist for the 1992 Los Angeles Times Book Awards' Art Seidenbaum Prize for first fiction. It was named a notable book of the year by numerous publications, including The New York Times Book Review and People. The book was also chosen by the Oprah Winfrey Show as a "Book Club" selection in early 1997, and is one of the bestselling titles chosen for that honor.

Lamb is the recipient of the 1998 Governor's Arts Award, State of Connecticut, a past recipient of the NEA grant for fiction and is a Missouri Review William Peden fiction prize winner.

He was the director of the Writing Center at the Norwich Free Academy, Norwich, Connecticut from 1989-1998, and is currently an Associate Professor of Creative Writing at the University of Connecticut's English Department. He holds a B.A. and an M.A. in Education from the University of Connecticut and an M.F.A. in Writing from Vermont College. Lamb lives in Connecticut with his wife and three sons. "

Biographical Information


---
Bibliography of Author's works
She's Come Undone, which was an Oprah Book Club Selection, has been optioned by Warner Brothers. Wally Lamb wrote the screenplay for the movie.

I Know This Much is True, was also an Oprah Book Club Selection, and has been optioned by Twentieth Century Fox.
---
Collateral Materials
---
Critical Reviews
"This book is a freight train of hope, truth and art." -- Journalist Andy Thibault on "Couldn't Keep It To Myself"


---




Questions








For Your Consideration:

Introduction and
"The True Face of Earth"



Links to questions for the remainder of the stories. Click HERE!




"The brave writers whose work is represented in this volume have acted in good faith, faced their demons, stayed the course, and revised relentlessly. And in taking on the subject of themselves—making themselves vulnerable to the unseen reader—they have exchanged powerlessness for the power that comes with self-awareness."--Wally Lamb


---


These powerful stories, testaments, hit us on all levels: we can't escape the power of their story, Let's reflect on anything and everything that comes to us as a result of reading them, INCLUDING the art of writing them.


- - 1. Wally Lamb begins his introduction explaining what goes on in editing, quoting different authors on the art of writing, and lists several techniques the authors in this book may have used. Are you familiar with any of these Writing Techniques? Let's keep an eye out for particularly good examples of the writer's craft.
- - How does the beginning of each of first three stories engage the reader immediately?
- - Whose point of view is the story "The True Face of Earth" told from? What effect does this have on the reader?
- - How does this viewpoint increase the poignancy of the story?
- - "Couldn't Keep it to Ourselves:" (page 3) But authors on tour are quieter, more solitary souls. Between appointments, we sit by ourselves in our rooms, nibbling like prairie dogs on room service sandwiches, or ironing our clothes for the next reading, or watching Judge Judy, ….And sitting on the edge of the bed in room 417 of the Westin Hotel, I uttered in a sheepish voice [while watching Jeopardy! "Who is Wally Lamb?"

- - What a dear man. Does this revelation of what it's really like to be a famous sought after author on tour surprise you?
- - What was your own conception of what being a celebrated author must be like?

"The True Face of Earth:"


- - 3. What does the title "The True Face of Earth" mean?


- - 4."Well, Peanut, always look people right in the eye," Dad advised. "that's what you do in the business world. And if they happen to have a glass eye or some other defect, then look at the bridge of their nose instead. They'll never know the difference." (Page 22). In "The True Face of Earth" the author has very cleverly continued the themes of looking people in the eye throughout the story.
- - How many instances can you find where people did or did not look each other in the eye and what did each reveal about the situation?
- - 5. What other themes do YOU see in this first piece?
- - loneliness (Denjer)
- - emptiness
- - betrayal
- - disillusionment
- - eye contact
- - trust (Zinnia)

Recurring Images/References

- - the egg
- - The airplane/ airport
- - The Little Prince

- - What is the point of view of the author of the piece?
- - How would you describe the tone?
- - What do the references to the airport mean?
- - 7. Saint-Exupery's fable The Little Prince is referred to several times in the piece. Have you read it and does it apply somehow to the story as a whole? What is it about?
- - Have you noticed that "The True Face of Earth" begins and ends with references to Saint-Exupery?
- - In how many ways do the references reflect the narrator and theme of the story?
- - Could you have written this story if even a part of it was yours?
- - Have you ever taken a writing class?
- - What did you write, fiction, non fiction, humor, memoir?
- - If we had, as an exercise at the end of this reading, a short writing effort from everybody on their own lives, could you do it?
- - What must it have taken to rewrite and revisit these events of the past? What would you think would be the effect on the author?
- - 9. "When I was twelve, Janet went off to college in Massachusetts…" (page 42). This follows the searing tale of the birth of a baby. How old was the author when this birth occurred?
- - 10. Wally Lamb refers to these stories as memoir (page xii.)
- - Memoir is the hottest new genre in literature but what precisely IS a memoir? How does it differ from autobiography, if it does?
- - Wally Lamb mentions the technique of "how to recast memories as dramatic scenes with the help of fictional techniques." Are there any examples of what might be considered "fictional techniques" in this story?
- - 11. What questions would you like to ask of the group or each author if you could ask some? We will get up separate pages for each author.
- - 12. Diane Middlebrook who taught literature and women's studies at Stanford for years suggested that the difference between autobiography and memoir is that a memoir takes place in and pays attention to some sort of historical/cultural context and so speaks to more than an individual experience. She was introducing Tobias Wolff's memoir In Pharoah's Army, a story of Wolff's time in Vietnam. And the definition seemed to fit well there. I wonder, however, if/how it might apply to Nancy Whiteley's stories. The culture of abuse, maybe? Or disfunctional families? I'd be interested in what you all think of this definition of memoir.--Georgia
- - 13. Is the ending optimistic?


Link to questions for the stories. Click HERE!




---

Recommended Reading

True Notebooks by Mark Salzman
PEN's anthology "Doing Time" (editor Belle Gale Chevigny)
Becoming a Writer by Dorothea Brande
Bird by Bird by Anne Lamott
Crafting a Life in Essay, Story, and Poem by Donald Murray
Opening Up: The Healing Power of Expressing Emotions by James Pennebaker
The Pushcart Prize: Best of the Small Presses, volumes xx-xxvi, Bill Henderson Editor
Writing as a Way of Healing: How Telilng Our Stories Transforms Our Lives by Louise DeSalvo
The Artists's Way: A Spritual Path to Higher Creativity by Julia Cameron
On Becoming a Novelist by John Gardner
The Farm: Life Instide a Women's Prison by Andi Rierdan
The Nature of the Beast: The Life of Bonnie Jean Foreshaw (film) Ondi Timoner, director