Readers' Guide: Three Cups of Tea by Greg Mortenson and David Oliver Relin
Three Cups of Tea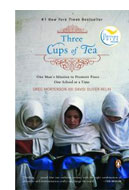 by: Greg Mortenson and David Oliver Relin

Category: NONFICTION
Guide Created By: Pedln
Discussion Leader(s): Andy, JoanK and Pedln
Read our archived discussion of this book
---
Guide Description
This guide comes from the Book Club Online discussion provided by SeniorLearn.org. The Book Club Online is the oldest book club on the Internet, begun in 1996, open to everyone. We offer cordial one-month discussions of fiction and non-fiction books, 24/7 and enjoy the company of readers from all over the world. This guide for Three Cups of Tea provides a link to the full discussion, which took place during May 2009, and also provides links to the many resources used.
Background About the Book
When Greg Mortenson tried to climb K2 as a memorial to his dead sister, his failure almost killed him. But a promise to build a school for the tribesmen who saved him changed not only his own life, but the lives of hundreds of Pakistani children. Now, more than fifty schools later, he and journalist David Relin tell the story of how his tragedy propelled him on a mission to bring peace to the world.
Reading/Discussion Questions
1. What made Mortenson particularly ripe for such a transformation? Has anything similar happened in your own life?
2. Is Mortenson someone you would like to know, work with or have as a neighbor or friend?
3. At the heart of the book is a powerful but simple poliical message: we each as individuals have the power to change the world, one cup of tea at a time. Comments?
Additional Resources
Three Cups of Tea website
: The Three Cups of Tea website, with background information about Mortenson and his projects, frequently asked questions, and a picture of the Korphe School. Of particular interest, a three year calendar showing Mortenson's speaking engagements and the many weeks he spends in Pakistan and Afghanistan.
Mortensen Lecture at DePauw University
: A write-up of a Mortenson lecture at DePauw University Nov. 2008. Includes links to audio and video downloads about his work.
Vikings Press Readers Guide
: A Viking Press Readers Guide to Three Cups of Tea.
Wikipedia information about K2
: Picture and brief background of K2, the mountain that Mortenson wanted to climb as a memorial to his sister Christa. His failure to reach the summit was the catalyst for his mission to provide education and schools for children in Central Asia.
NY Times article about Islamic Schools in Pakistan
: By Tavernise, Sabrina. Pakistan's Islamic Schools Fill Void, but Fuel Militancy, NY Times, May 3, 2009. Describes madrasas, Islamic schools causing concern because they are increasing the pool of young minds sympathetic to militancy.
Wikipedia article about Islamic Dress
: Picture and brief explanation of Salwar Qameez, traditional dress in South Asia.
GoodHousekeeping article about Mortensen's influence on girl's education
: By Stone, Judith.
Teach a Girl, Change the World
, Good Housekeeping, May 2009. More background on Mortenson, with a focus on the efforts and influences of his young daughter Amira.
Agency for Instructional Technology Interview
: Tech-nos E-zine. An interview with Sadia Ashraf, Outreach Coordinator for the Central Asia Institute, the non-profit organization founded by Mortenson. Ashraf edits the CAI newsletter, raises funds for CAI. In the interview she talks about the Pennies for Peace project and the teachers and equipment in the CAI schools.
Fox News video interview with Mortensen
: A four minute video of Mortenson on Fox News talking about the Pennies for Peace project.
The official website of the Central Asia Institute
: Information about the non-profit organization founded by Dr. Jean Hoerni when Mortenson was beginning his mission of building a school for the children of Korphe. It is the fund-raising and administrative arm of Mortenson's mission.
Article in Washington Report on Middle East Affairs
: By Pasquini, Elaine.
Education-Minded Afghans, Pakistanis Urge Central Asia Institute to Build More Schools.Washington
: Report on Middle East Affairs, March 2008, pp. 46-47. Mortenson and CAI Board member librarian Julia Bergman discuss how the Central Asia Institute is trying to extend academic training for the area's young people and why education for girls is such a high priority.
Photographs of Scenes Related to the Book
Shigar Valley between Korphe and Skardu
Skardu street scene
View of Skardu
View of mountain